THE DIRCKS DIFFERENCE – CONCRETE SERVICES
We know you expect the best out of your concrete contractor and the concrete services they provide. The work that concrete service companies do reflects you, and any risk to your timeline or budget is an added stressor you don't want to deal with.
Our experience and proactivity as a concrete contractor will help you beat your budget and timeline.
Dustin Dircks began his career working for someone else. He worked for concrete service companies that were overbooking jobs, using unskilled labor, and compromising quality and safety to get jobs done as quickly and cheaply as possible. Dustin started Dircks Concrete so he could do things differently, with integrity and honesty. 

Dircks Concrete will begin on time, finish ahead of schedule, and always remain dedicated to the project at hand. Dircks Concrete was born with and remains committed to, the goal of getting concrete services done better.
Concrete Services That Go Above and Beyond
To accomplish a better overall project, we get involved in the blueprint and planning stage. This allows us to work alongside architects and other contractors to ensure the plans will serve the project best, and provide the best solutions for contractors. This also gives us as a concrete service contractor an understanding, early on, of what manpower, supplies, and volume of concrete services each project will require.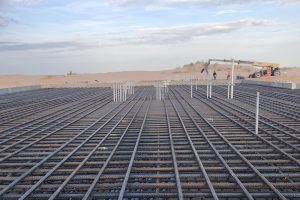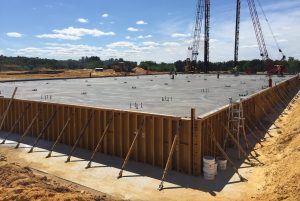 When we commit to a project, we commit to doing all we can to help you succeed.  This includes creating partnerships with other vendors before our competitors. We will preemptively contact local concrete suppliers to ensure we have the concrete available to keep your project moving, and will never be hindered by waiting on supplies.
Learn more about the Dircks difference in frac sand concrete and commercial and electrical site concrete here.