PROJECT SAFETY STARTS HERE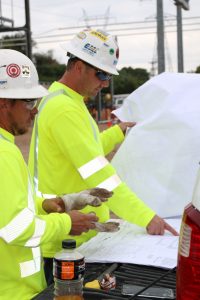 At the forefront of any concrete job we take on is safety. Lapses in safety can lead to serious injuries. This doesn't just cause stress, it impacts every part of the project, putting a strain on everything from the timeline to the budget.
Our entire team is MSHA certified, and all of our team leaders carry the OSHA 30 certification. Additionally, our staff is CPR, and first-aid certified, offering you peace of mind when it comes to jobsite safety for your entire crew. We've also put systems in place to avoid safety hazards, keeping the entire team free from harm and the project on schedule. Whether, you need a commercial concrete contractor, frac sand concrete, or electrical site concrete, you can trust Dircks to get the job done with total safety.
We start each day with a Job Safety Analysis (JSA), identifying all potential foundation safety hazards on site that day and discussing how to control, diminish, or fully eliminate those hazards. This small investment of time each day all but eradicates safety accidents, saving countless hours of lost work in the long run.

In addition to the daily safety meetings, we also host weekly Toolbox Talks. Each week we facilitate an informal discussion that focuses on a specific safety topic. The goal of these Toolbox Talks is to mitigate any safety threats on the jobsite. With Dircks Concrete facilitating JSA's and Toolbox Talks, you'll see a rapid decline in safety accidents.
Don't just take our word for it though, the numbers speak for themselves. Over the past several years, we've had consistently stellar safety ratings.
Workers' Compensation Experience Rating Factors:
2019 – 0.77

2018 – .83 (lowest possible)

2017 – .86 (lowest possible)

2016 – .91 (lowest possible)
Other Safety and Risk Control Indicators:
Since 2015, Dircks Concrete Services have sustained NO (0) General Liability or Automobile Liability claims on jobsites
Total Recordable Incident Rate:
2017 – 0.00

2016 – 0.00

2015 – 0.00